The Rural Bankers Association of the Philippines (RBAP) and the United States Agency for International Development (USAID) signed a Memorandum of Cooperation last March 31, 2014 to formalize their partnership in improving credit access through public land titling.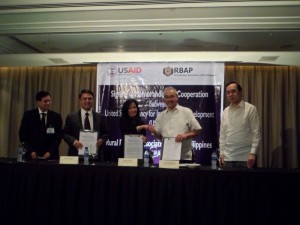 The memorandum – signed by RBAP Executive Director Vicente R. Mendoza and USAID Mission Director Gloria D. Steele at Makati Shangri-La Hotel – is part of the US agency's Advancing Philippine Competitiveness (COMPETE) project, which seeks to further boost growth in the country by enhancing the credit access mechanism using property rights as collateral.
The USAID has been supporting residential land titling programs following the implementation of the Residential Free Patent Act, which authorizes the issuance of free patents of residential lands to Filipinos without land title.
The RBAP, for its part, will assist member-rural banks to set up land titling services for free patent holders, who may also be their potential clients.
Last November, the RBAP and Foundation for Economic Freedom also signed a Memorandum of Understanding for the dissemination of information on credit access and land titling among rural banks, their clients, and local government units.