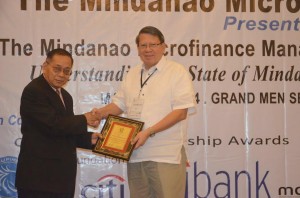 The Mindanao Microfinance Council (MMC), in a bid to promote its advocacy of ending poverty in the region, conducted the Mindanao Microfinance Conference last March 28, 2014 at the Grand Men Seng Hotel in Davao City.
With the theme, "Understanding the State of Microfinance Industry in Mindanao," the annual event became an avenue for rural bankers to exchange insights on issues and opportunities in Mindanao's current fiscal landscape.
Senator Paolo Benigno Aguirre Aquino IV, the proponent of a bill that seeks to create a Microfinance Code for the country, delivered the keynote speech.
Rural Bankers Association of the Philippines Vice-President for Mindanao Gen. Charles Y. Hotchkiss also spoke at the event, discussing the involvement of rural banks in the microfinance industry.
Gen. Hotchkiss said rural banks support economic growth in the countryside through the provision of pro-poor financial services such as micro loans and savings accounts.
The conference – attended by representatives and stakeholders of microfinance institutions all over the country – was also graced by Bangko Sentral ng Pilipinas Deputy Governor Nestor A. Espenilla Jr., People's Credit and Finance Corporation President Edgar V. Generoso and Microfinance Council of the Philippines, Inc. Executive Director Allan Robert Sicat.