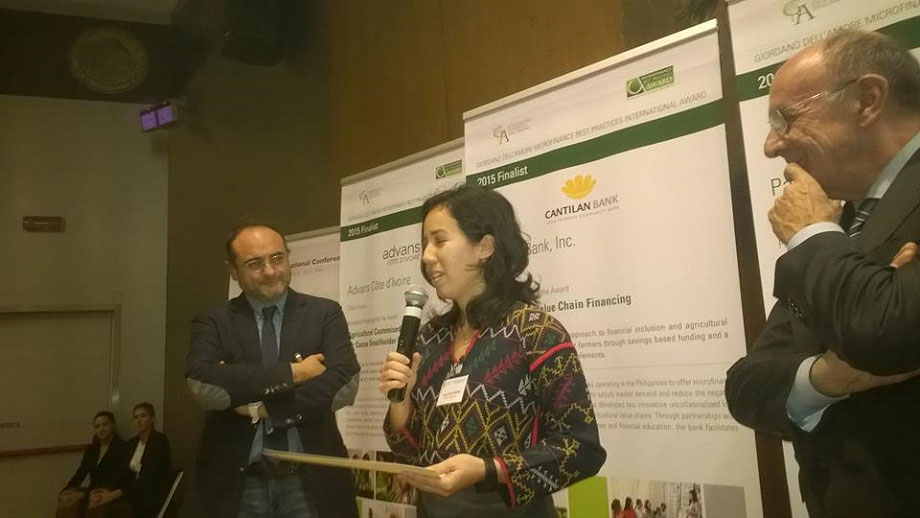 Cantilan Bank wins this year's Fondazione Giordano Dell'Amore Microfinance Best Practices International Award. Ms. Tanya P. Hotchkiss, Head of Office of Strategic Management receives the award for Cantilan Bank.
Cantilan Bank received the 2015 International Microfinance Best Practices Award from Fondazione Giordano Dell'Amore, an Italy-based foundation that promotes awareness on the key role of microfinance as a means of alleviating poverty in developing countries.
This year's theme, "Improving financial inclusion of smallholder farmers" highlights the various challenges faced by microfinance practitioners when it comes to better productivity and access to markets considering the farmers' significant role in generating most of the world's food.
Fondazione Giordano Dell'Amore received a total of 35 applications from 28 countries and selected the top three official finalists namely, Cantilan Bank (Philippines), Advans CI (Cote d'Ivoire), and Palestine for Credit and Development-FATEN (Palestine). The Award Selection Committee was composed of international experts in the fields of microfinance and financial inclusion.
CBI presented its innovative agricultural loan product, Pag-uma and Value Chain Financing, which helps Mindanao farmers improve their crop production and achieve better returns from their farm through enhanced repayment methods and very affordable interest rate. By providing effective access to a wide range of financial services, it helps the farmers borrow better, reduce production risks, increase productivity, increase income, and save better.
The bank was represented by Ms. Tanya P. Hotchkiss, Head of Strategic Management who was also a plenary speaker during the International Conference held at Cariplo Foundation Conference Center, Milan, Italy on October 15 and 16, 2015.
Cantilan Bank received a cash prize worth EUR 50,000 or an equivalent of 2.5 million in Philippine Pesos as this year's winner of Fondazione Giordano Dell'Amore Microfinance Best Practices award. This will be used to fund the bank's initiative to enhance its existing projects for the benefit of smallholder farmers and other microfinance clients in its 40 offices located in Mindanao.
——————————————————————————————————————————–
Founded in 1980, Cantilan Bank, Inc. (CBI) is one of the leading community banks in the country with Corporate Headquarters in Cantilan, Surigao del Sur.
Currently, CBI has P2.2 billion pesos in total assets and provides financial services through its collective network of 40 branches and offices, and 24 ATMs that are strategically located across Caraga Region, Misamis Oriental, Compostela Valley, Davao Provinces, and Southern Leyte.
Cantilan Bank was awarded by Landbank of the Philippines as one of the Top 3 Outstanding Countryside Financial Institutions in the country and as the best CFI intermediary with the lowest pass-on rate. In 2013 and 2014, CBI was cited by the BIR as one of the top 3 corporate taxpayers in Surigao del Sur. Its microsavings product for students was also recognized as the best in the country by the Rafael B. Buenaventura Foundation.
CBI is regulated by the Bangko Sentral ng Pilipinas and Securities and Exchange Commission. It is a proud member of Rural Bankers Association of the Philippines, Philippine Deposit Insurance Corporation, and BancNet powered by Nationlink. For more information on your friendly community bank, visit www.cantilanbank.com.