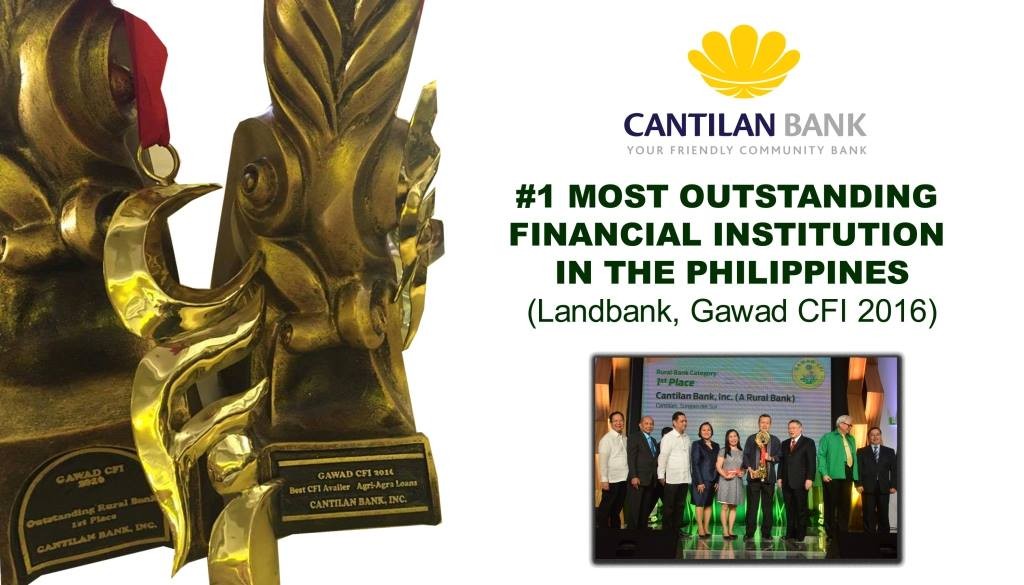 Cantilan Bank has been named as the country's No. 1 Most Outstanding Countryside Financial Institution and Best CFI Availer for Agri-Agra Loans during the 18th edition of Gawad CFI by the Land Bank of the Philippines (Landbank), a government financial institution focusing on serving the needs of rural communities.
"We are one with Landbank in helping develop and sustain the livelihood of the people in the countryside. These awards will help us further our endeavor to deliver the best financial services to the communities that we serve," said CBI Chairman Lt. Gen. William K. Hotchkiss III (Ret.) who received the awards during the Gawad CFI Awarding Ceremonies held at the DM Hall, Landbank Plaza on August 10, 2016.
"We are thankful that our financial inclusion efforts in the countryside have been recognized by Landbank for six consecutive years now," he added.
Department of Finance Secretary Carlos G. Dominguez III, the event's guest of honor, congratulated the bank for its outstanding performance. Aside from Gawad CFI awardees, Landbank also honored this year's winners of Gawad PITAK, Gawad Entrepreneur, Gawad KAAGAPAY, and Gawad MFI.
Gawad CFI is an annual awarding ceremony of Landbank which gives recognition to the efforts of outstanding financial institutions who have made a valuable impact in countryside development, benefiting more farmers, fisherfolk, and small-medium enterprises.
Recently, Cantilan Bank also bagged an award from the Small Business Corporation as Most Distinguished Partner in Credit Guarantee.