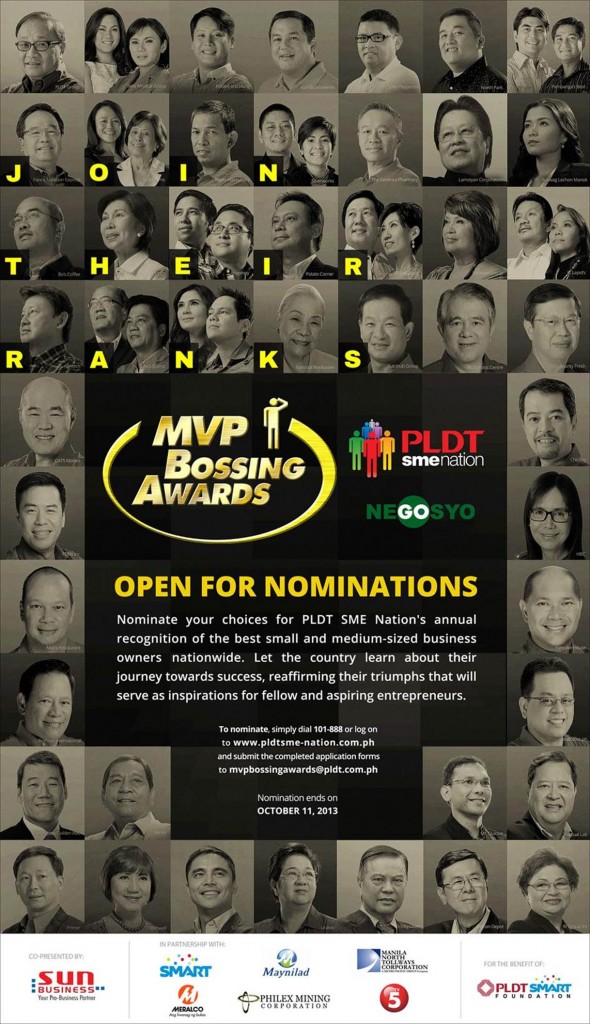 Dear Rural Bankers,
The PLDT SME-Nation, in partnership with Go Negosyo, once again seeks to recognize the country's leading entrepreneurs in this year's search for the new Champions of Filipino Values in Business.
They are looking for fine Filipinos who continuously work hard by tapping skill, talent and technology in order to succeed in their respective business ventures. The contest is open to owners of Small and Medium Enterprises and homegrown Filipino businesses that have been in operation for at least 5 years.
If your "Bossing" is an inspiration to others, if his/her business exemplifies exceptional creativity and perseverance, then make his/her story part of SME history. Nominate him/her by filling out the nomination form, which can be downloaded here: MVP Bossing Awards Nomination form
Together with the nomination form, kindly attached the following documents:
1. DTI Business Permit/SEC Registration (photocopy of the cover page only)
2. Proof of current PLDT Business Subscription (ex. billing statement for one month of one account)
3. Essay answering the questions above.
Kindly submit completed application forms thru email at mvpbossingawards@pldt.com.ph, at Go Negosyo offices or PLDT SME Nation Offices. You may likewise submit the nomination forms thru your PLDT SME Nation Account Officers.
Thank you.