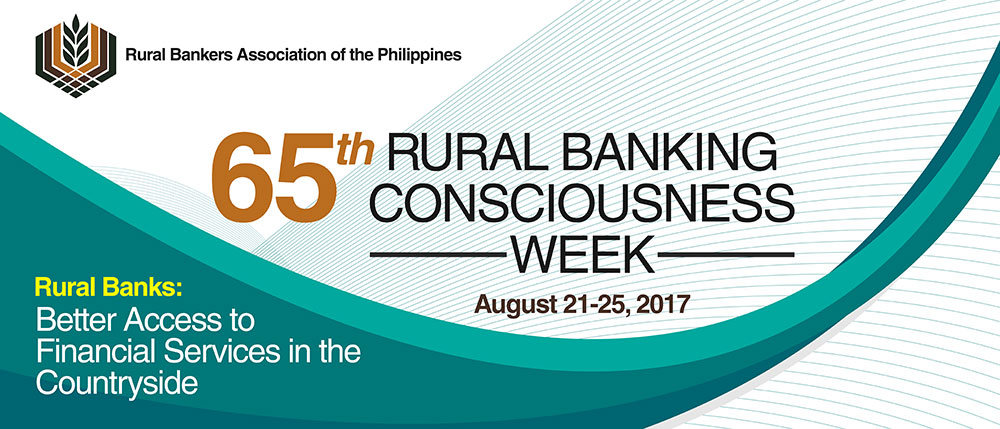 MEMORANDUM NO. 001-2017
TO: RBAP MEMBER BANKS
FROM: GIOVANNI D. GABRIENTO, President
DATE: 03 AUGUST 2017
SUBJECT: 65TH RURAL BANKING CONSCIOUSNESS WEEK – AUGUST 21-25, 2017
Pursuant to Presidential Proclamation No. 362 issued on 24 August 2000 (see attached), the Rural
Bankers Association of the Philippines spearheads the celebration of the "Rural Banking
Consciousness Week" this August 21-25, 2017.
The theme for this year is "Rural Banks: Better Access to Financial Services in the Countryside".
Our nationwide reach placed rural banks at the forefront of financial inclusion wherein the farmers
and fisher folks, and millions of household in the countryside are given access to various financial
products and services. The commitment of the industry is to spur growth and development in the
communities that we serve. It is vital that a continuing effort to educate the Filipinos about the
contribution of rural banks in economic development is sustained.
We request all rural banks to join us in celebrating the Rural Banking Consciousness Week by
displaying the prescribed tarpaulin layout (see attached) in the premise of all of your offices and
branches from August 21 to 25, 2017. The preferred size is 3 ft. x by 8 ft. but may be adjusted
accordingly.
Thank you and Mabuhay ang Rural Banking!
Very truly yours,
GIOVANNI D. GABRIENTO
President
Download official memo in PDF format:
Memorandum_001-2017_RB WEEK